About Us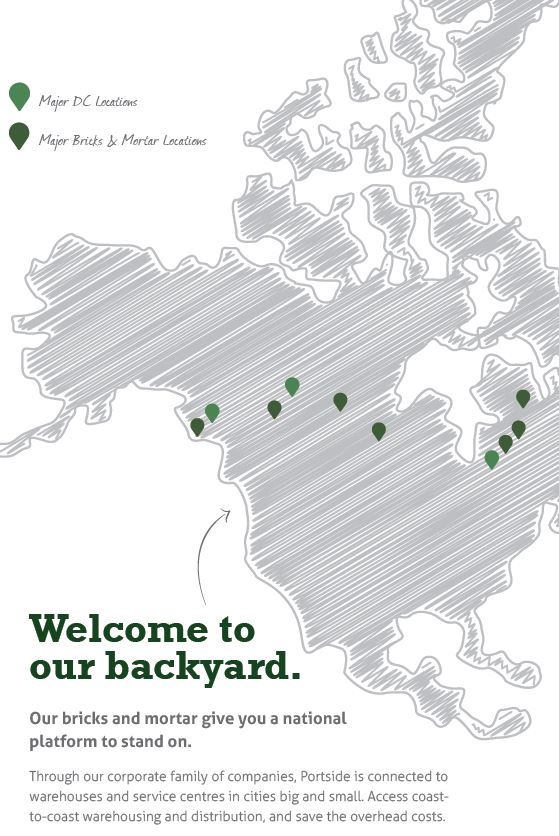 We can handle that.
We create agile, lean and green supply chain solutions – backed by a national warehousing and distribution network.
Our Locations
We have a large footprint, but we also have the entrepreneurial spirit of a small business. We help you jump into the Canadian market or grow your domestic sales.
Specializing in warehousing and distribution services
Strategic distribution centres with over 1,000,000 square feet nationally
Major Distribution Centres in Vancouver, Calgary, Edmonton and Toronto
Container stuffing/de-stuffing, railcar loading/unloading, drayage services, inventory management, pick and pack
Customized pricing and inventory management system, on-line access to inventory, RF scanning environment
Secured facilities with gated entry and 24 hour surveillance system
Our strength is in listening closely and thinking creatively. Every partnership we form starts with a blank piece of paper. It's where collaboration happens. It's where we create an outcome driven solution for your business and vision.
We move boxes. We don't expect our partners to fit into them. Portside distinguishes itself with:
Execution
We deliver. We want you to know your solution was executed quickly, accurately, on time, efficiently and with the most visibility possible. We make sure that the answer to each of these questions is yes.
Innovation
We never stop innovating and we never will. We understand the importance of having the flexibility to create technology partnerships that provide solutions and real-time information.
Sustainability
Our foundation of responsible management, commitment to providing innovative supply chain solutions, and our pledge to protect the environment ensures customers remain in good hands with Portside.